Is there any way to create "generic Barcodes" in CETEC without having the "BIN" prefix encoded into the barcode?
What exactly are you wanting these barcodes to do? Where in Cetec would you want them?
Thanks,
Cetec ERP Support
I'd like it to where the prefix "BIN" doesn't get added to the desired barcode text when scanned…
What exactly do you want the function for these to be? If these barcodes aren't associated to a bin what would they be used for? Are you just wanting the bin name not to show up? How would you know what bin to use?
Just wanted to understand what the function is.
Thanks,
Cetec ERP Support
You have 2 sections, one called "BIN Barcode", and another one called "GENERIC Barcode" I'd like to create completely "generic" barcodes that don't have any pre-defined text associated with it. If we wanted to create barcodes for bins, then i would add the "BIN" prefix as needed…
this would allow us to create "generic" barcodes with whatever text we wanted to use. (ie, as shortcuts or pre-defined responses for the operators…)
see below. I Create the text i'm looking for through the "Generic Barcode" menu. When i scan it in (the bottom image), "BIN" is automatically added…I'd would like it if it wasn't added to the barcode…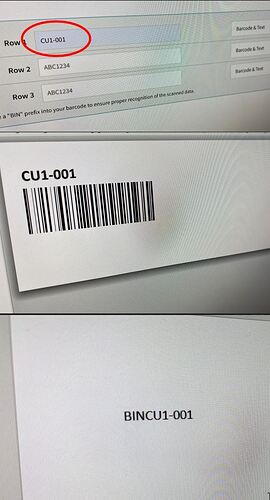 BTW, the generic barcode used to work as intended…if i typed in "CU1-001", the barcode would encode only "CU1-001". I feel like this is a bug as maybe the format desired for the other section ( BIN Barcode) was used for this section accidentally?
So it looks like that BIN prefix is necessary to make the barcodes readable. If you look at the warning at the bottom of that screen you can see it says it needs to be there.

So I don't think we can remove it because it messes with how the barcode is read by the scanners.
Thanks,
Cetec ERP Support
How do you mean? We've created barcodes (from other SW) that can be read just fine into CETEC.
I talked to engineering and the main reason is because our put away screen expects the BIN prefix. But this document is customizable so if you want to change it you can. If you look for generic barcode in custom docs you can change the code.
Thanks,
Cetec ERP Support
I didn't even think of that! Yes. by modifying the Custom Document, i'm able to remove the "BIN" prefix from the barcode…
Thanks!