after entering a CAR, action taken disappear when clicking update. Where are they
Could you provide everything in the URL link after dotcom so I can pull up the specific CAR you updated?
You can also provide the CAR ID number and I can pull it via the CAR report list. As soon as I get some eyes on that object I'll start trying to figure out what's happening there.
Thanks,
Cetec ERP Support
Could you walk me through the steps that you're using when generating these 'actions' and updating your CAR object if possible? Are you adding the action, updating the CAR via the 'update' button, and then moving it from one workflow stage to another?
I've added two actions to a backup CAR that I've generated, updated the ticket each time an action was added, and transitioned the CAR through workflow stages. I haven't been able to break that process & cause the 'Added Actions' to disappear.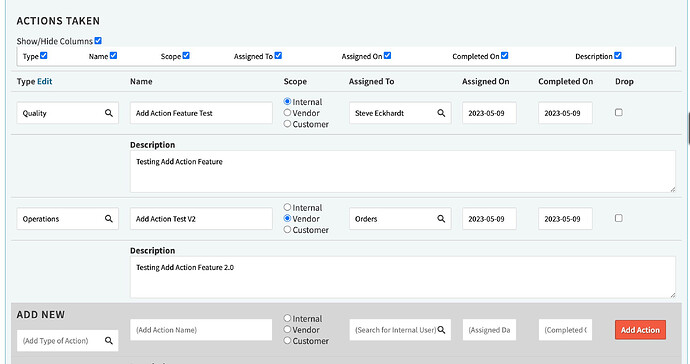 As you can see in the screenshot I've selected both 'Internal' and 'Vendor' for each added action The internal added action has you selected as the user - in the Vendor added action I used 'Orders'. Updated the CAR both times after adding those actions, but the added action sticks after updating (as intended).
As I requested earlier - could you walk me through the steps that you're taking while updating/adding these actions?
Thanks!
Cetec ERP Support
The screen shot that I sent was via a backup that I pulled. That testing wasn't done in your live environment (we don't ever do that). What's happening to the action that you're trying to add after you click 'Add Action'. Does it update the CAR and show the action in place? Is it completely blank like you never entered the action in the first place? Do they disappear 'only' after you click update on the CAR header?
After I enter all the information and click update is then disappears.
Hey Steve,
Apologies for the delayed response here - I've been trying to reproduce this issue you're running into when updating CARs in your environment and haven't had any luck so far. I've created a case and assigned it to our engineering team for additional assistance on this. I'll get back to you with an update from them as soon as one is provided.
Thank you for your patience while we've been trying to get the root cause of this issue pinpointed. Unfortunately we haven't been able to do that yet, but are working to get this resolved.
Thanks,
Cetec ERP Support
Would it be possible for you to create a 'test CAR' in your production environment that I could test to try and reproduce this issue? With the troubles I've had trying to pinpoint that issue in a backup this would be the next step to take trying to get to the root cause of it.
Let me know if that's something y'all could do, and if so send me the url link to that specific object in your environment so I can test that going forward.
Thanks Steve!
Cetec ERP Support
I've added an Action in the test CAR that you provided, clicked update on the CAR, and refreshed the page just to see if that would cause it to disappear. I'm still seeing this on my end of things - can you confirm you can still see the action item showing on the CAR?
https://567itg.cetecerp.com/otd/car/27/edit?get_pdf=&get_print=
If you can still see the action item listed on the CAR lets try to have you clear your cache and cookies, rerun the process, and see if that aligns things back up accordingly in your environment.
Let me know if that process works for you and you're able to add action items to the CAR and update it without having those actions disappear. If that doesn't work we'll need to set up a screen share meeting so I can record it happening on your end.
Thanks,
Cetec ERP Support
Yes I do see what you wrote. CAR object - Testing Adding Action & Updating CAR object to see if it disappears.
Did you change anything? Should I try to enter something now?
Here's what I did when adding this action item:
I added a type of action, action name, (selected 'Internal'), input techx as the internal user, assigned dates and input a comment.

After inputting that data I clicked 'Update' at the top of the CAR object.

Refreshed the page to see if that would cause the action item to be removed from the CAR.
If you could clear your cache & cookies from your browser, go into the CAR and add an action item, then click update and see if that action item sticks to the CAR like the one that I added to it.
Thanks,
Cetec ERP Support
I clear cookies and cache, enter my action as you stated and I still do not see it?
I refreshed the CAR object and don't see your addition either… just the one that I added to the object. Apologies for not asking this sooner - but I was wondering if you're using the Cetec system in a google chrome browser?
Could you also try opening an 'incognito' browser window, going into the test CAR that you made, and trying this again? I want to see if processing that in an incognito works or posts the same results.
Thanks,
Cetec ERP Support
I am using chrome.
I went to and incognito browser and entered and action. I still do not see anything.
Okay lets go ahead and set up a screen share call so I can record the action disappearing & get that escalated accordingly. I've got some availability today at 3:00pm (CST) does that work for you? If not please provide some time slots that work. I expect the meeting to go 5-10 minutes or so, it shouldn't take long to record.
Let me know what works best and I'll get an event invite generated and sent your way.
Thanks,
Cetec ERP Support
for me 1 or 2 would work better.
As I am to get off today at 3:30 I do not have any headphone to speak with, wil that be needed?