Using the Ontime Ship Report page, We compare the Ship Target to the Invoice Date to determine if shipments are being sent out on time.
Can you confirm that if the "ship target" date doesn't match exactly the Invoice/Ship date, then it would NOT be considered "On-Time"? Even if the Invoice date is "before" the ship date?
In the screenshot below, I have 8 records, and only 1 of the records shows a "late shipment" date. - Red Check.
I have 2 records showing delivery/invoice occurred prior to "original ship date". Unfortunately, it seems as if this counts against our metrics.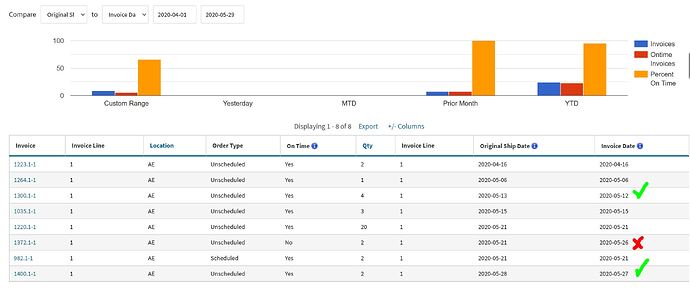 Also, i'm noticing that there is always N+1 records on the chart… compared to what i see on the list…Why would this be? For example, I see 8 invoices on this list, but the chart shows 9?