CLASSES TEST AND COMPLATED SHOW STARTED! NOT COMPLETED
Hello,
Can you provide further information as to what you are seeing in UniversitERP so that we can assist you?
Thank you,
CETEC ERP Support
Class: A/P Class: A/R Class: Engineering Class: Intro Inventory Started! Production Started!
Purchasing Started! Class: Quality Sales Started! Class: Scheduling
Shawn,
We have support staff holding office hours, typically at 11:00am, in GoogleMeet most days of the week, Schedule for the next couple weeks:
Dec 20 - Inventory
Dec 21 - Production
Dec 22 - Quality
Dec 23 - A/R & A/P - back to back 11:00 am and 12:00 pm, respectively (I will host those)
Dec 28 - Engineering, Intro & Set Up
Dec 29 - Engineering
Dec 30 - Sales
Jan 3 - Planning & Scheduling
Jan 4 - Purchasing
You should be able to click the link to go to the office hours calendar from the class material page.
In the office hourse GoogleMeet, you will be able to share your screen with the host so that they can help you resolve the issues with the Class/Test completions. Hope to see you on the 23rd! And I will pass this along to the rest of our team hosting the office hours so they will know to be expecting you.
Thank you for your inquiry…we will get this worked out for you!
Best,
CETEC ERP Customer Support
Shawn,
Status update on this issue: A ticket to fix the issue was submitted and engineers are working on a fix…will update you again once the fix is applied. Thank you for your patience!
Best,
CETEC ERP Customer Support
@ShawnHBarnettSabatino…have heard from engineering that I can let you know that a fix is in the works! It's already done, and will be there (in your production environment) when we release 4.08, mid-January 2023. This should take care of the issue you are having seeing your classes/tests update to "completed". Certainly if you continue to have problems with this after the 4.08 release date, be sure to let us know.
Best,
CETEC ERP Customer Support
A/P Test finished all but last - there are no deposits to close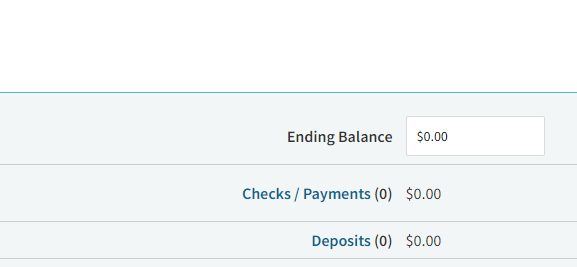 @ShawnHBarnettSabatino, I will see about updating the deposits data so you can finish the last A/P Test challenge…sorry about that! Can I clarify that you are talking about A/P Test Challenge #15? I will send another message when that is updated, asap.
Thank you,
CETEC ERP Customer Support
Hi Shawn!
It says 0 in the parenthesis because you haven't selected the check/deposits in the challenge. Scroll down on the page and you'll see them. See screenshot for assistance.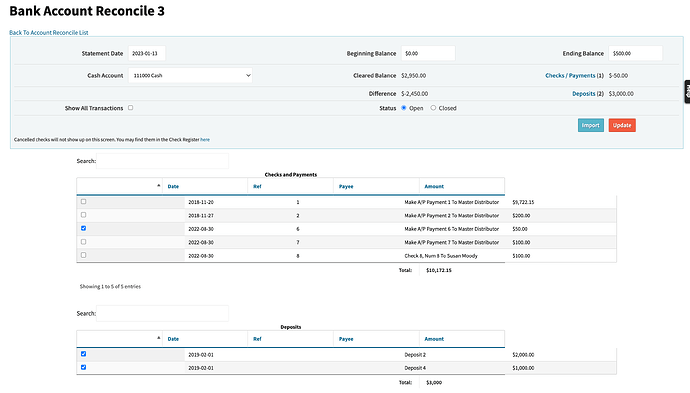 Best,
The Cetec Team
I had NO idea there was a $1500.00 charge for taking quizzes - I am shocked and they don't even close successfully. I am really surprised at this fee.
Hi @justicebearing,
Sorry to hear that you weren't aware of the fee for using UniversitERP. We have tried our best to be clear about the cost, both by providing a detailed breakdown of the pricing structure on the UniversitERP support page and by displaying an alert on the user/edit page whenever the option to give that user UniversitERP access is selected. We will make sure to share that feedback to evaluate if there's need for further clarity there.
As for the content of the classes, they were not designed to be an in-depth look at everything possible in the system. Rather, the goal was to create a training tool to take someone unfamiliar with Cetec and give them a baseline knowledge of how to use the system. Our hope is that this will make things like onboarding new employees simpler.
Finally, as mentioned earlier in this topic there was an issue with the classes not showing as completed, but we have since addressed that issue and it appears to be working as expected in your environment currently. If that is not the case, please let us know and we would be happy to continue looking in to that for you. Or, if you have questions about any of the individual challenges, you can create topics in their respective class pages on this forum, or attend our daily office hours and ask your questions in a live Q&A setting with one of our instructors.
Thank you for sharing about your experience. We hope to continue making additions and improvements to UniversitERP in the future.